Reclamation District Number 2059 (RD 2059) encompasses Bradford Island, located in Contra Costa County (County), California. RD 2059's service area is bounded by the San Joaquin River to the north and west, the False River to the south and Fisherman's Cut to the east.
Bradford Island Reclamation Area was established on November 19th, 1921. Our mission is to manage and maintain levees and drainage to become the "model island" to which the Delta looks for solutions.
Office Hours:
Tuesday 9:00 am - 5:00 pm
Friday 9:00 am - 5:00 pm
Ferry Tickets

may be purchased at GAS N SAVE (Vallero) located on Cypress near the road that takes you to the Ferry. Contact Phone: (925) 625-6055.

The tickets cost $7.75 for one full round trip for a four wheel vehicle.




YOU MUST have a ticket to board the ferry. NO CASH SALES.




If someone accepts cash from you, please call (925) 209-5480 to report this.
District Area of Jurisdictions
District Area of Jurisdiction":  The District Works and the adjacent area(s) to the District Works, over which the District has control and the ability to regulate:
1.         For "District Levees:"   The District Levee and the area on the landside and waterside of the District Levee that is required to maintain the stability, safety and integrity of  the  District  Levee  and  the  levee  operating,  maintenance,  relocation  and reconstruction requirements of the District (to-wit: 110 feet from the center line of the District Levee on the waterside; 110 feet from the center line of the District Levee on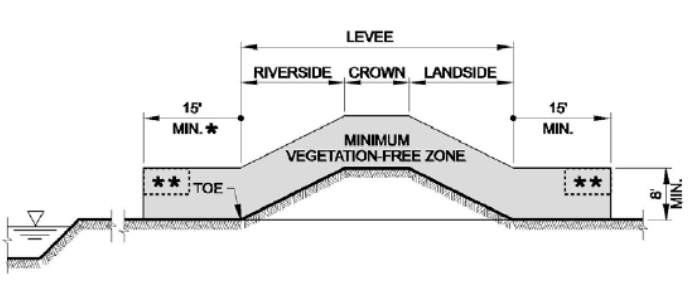 the landside, with authority to regulate encroachments and land-use activities in that area from 110 feet to 160 feet from the centerline on the landside, if those encroachments or land use activities may impact the District's Levee or District operations.   Excavation activities within 300 feet of levees are also subject to District jurisdiction and prior approval).